Gifts of Grace...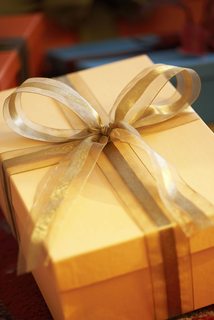 We all enjoy special gifts, especially when they're given in love and received in unexpected moments of joy. Excitement builds when presents are unwrapped and boxes are opened to reveal what's hidden inside.
God gives gifts, and lovingly places packages of purpose in our lives. He allows us to recognize how they will be opened, as He prepares our hearts to do His will.
The Bible says,

" There are different kinds of gifts, but the same Spirit distributes them. There are different kinds of service, but the same Lord. There are different kinds of working, but in all of them and in everyone it is the same God at work." 1 Corinthians 12: 4-6
God gives gifts to help us serve Him, and build the body of Christ. Each and every one is given the ability to know how to use them for His glory.
Are there packages of purpose waiting to be opened in your life? Do you recognize the gifts of grace God has placed in your heart? How will you use them?
God can help you discover a heart of content as you allow Him to guide you toward His will. He can help you understand what it means to serve Him with all of your heart, if you will only open His gifts and share what has been placed inside.
"Trust in the Lord with all your heart and lean not on your own understanding; in all your ways submit to Him and He will make your paths straight. Proverbs 3:5-6.