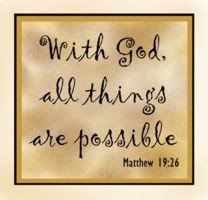 "But we have this treasure in jars of clay to show that this all-surpassing power is from God and not from us." 2 Corinthians 4:7 NIV
God prepares us to trust in Him. Only He can fill our hearts with peace and remind us He is the Almighty Father of strength.
The human side of worry often forgets God is in control of our days. We become weak and question our ability to find purpose in the power of His strength. But, God lovingly reminds us He is near. He tenderly places His hands of hope and covers the wounds of our hearts. And, He reminds us how we are made whole by the power of His grace.
Only God can prepare us to recognize His loving presence in our lives. We must faithfully believe He will do great things. As we learn to trust in Him, God will help us discover a peaceful heart of hope and allow us to recognize what it means to totally trust in the power of His everlasting love.
Dear God, Thank you for moments when we feel the mighty power of Your strength. Help us remember we can trust in You. Forgive us when we don't open our hearts wide enough to be led by Your will. Fill us with Your everlasting peace. And, lead us to the place we will always be reminded our greatest strength can only come from You. Amen
God is near and He loves YOU,
Nan