He Didn't Stay There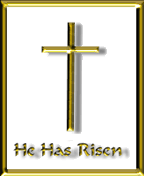 The children in my church sponsored preschool enjoyed Easter projects we made in class. Colorful eggs and stenciled pastel rabbits brought smiles to the faces of the children. But, beautiful painted crosses were their treasured favorites. They learned why they were significant in our discussion about Jesus and the cross.

I spoke with the children, and God led me in discussion which was appropriate for my young students. We shared together about the events which would lead us to the arrival of Easter, and I helped them comprehend Jesus was alive!
The children painted crosses with beautiful colors of spring. While they painted, I took time to listen to see if they had absorbed the lesson of the day. It's difficult to help children understand God is real and help them comprehend the resurrection.

"Where's Jesus?" asked one little girl who painted the bare cross with a puzzled look on her face. "Jesus didn't stay on the cross." said another. "He died. They put him behind a rock, and He came out… He's living, remember?"


Oh, how we need to remember we serve a living God! Our Easter Celebration is complete. Now, we are given opportunity to decide how we will serve our risen Lord and choose how we will maintain a meaningful relationship with Him, as we open our hearts to discover what He provides for us to receive.

Painted crosses lined the hallway. As parents came to pick up their children after school, I once again took time to listen to their tender interpretations of our morning conversation. "What did you make at school today?" one mother asked, as she picked up the cross. "I forget what it's called, but Jesus didn't stay there", her son replied with a smile…


Dear Heavenly Father, as we move beyond Easter, help us not forget the cross. You are our living God who is deserving of our love. Guide us by your grace and lead us to your presence with a grateful heart of praise. We remember your loving sacrifice, and humbly offer you our thanks, as we continue to remember Jesus is alive! Amen
The tomb is empty and our hearts are full!
God is near and He loves YOU,
Nan